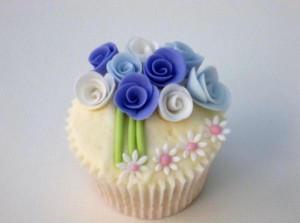 Wedding bouquet cupcakes are order of the day in the kitchen at La Maison on the Ashdown Forest East Sussex this week.
Both east and West Sussex have had flurries of snow but the time is Spring so it is spring flowers that cover the cakes this week.
A wedding at South Lodge Hotel in Horsham West Sussex is being baked and iced for friday and the photos of the stunning cake display will be up on the blog this weekend
A top tier madeira sponge in white fondant icing with fresh flowers will adorn the top of the tower for the bride and groom to cut.
The tower of tumbling cakes will consist of beautiful pink fondant topped cupcakes with tiny diaises , 1200 had to be handcut!
10 mini cakes with flowers and daisies (of course) and pink and white stripes will add to the display with fresh flowers dotted between.
All cakes are fluffy vanilla flavouring with a creamy light vanilla buttercream underneath the fondant tops making this a delicious and stunning arrangement.
The setting at South Lodge Hotel near Horsham is absolutely beautiful and one of the premier wedding venues in the South East.
Hopefully the sun will shine so that the gardens can be enjoyed as well.
Our bride and groom are fabulousy gorgeous and this will be a truly amazing and special day for both them and their family and friends.
So it is off to collect some very fresh and locally sourced ingredients for what will be a very busy but fun few days.
I hope that spring arrives soon as the daffodils in the garden are starting to look a bit sorry for themselves and even Nell the Border Collie is not too keen on leaving her place by the side of the radiator!
Wrap up warm everyone and have a good week.
Love Mands x