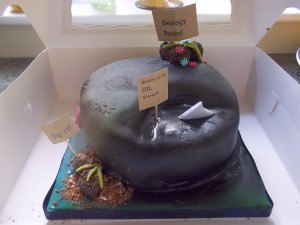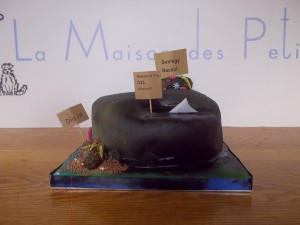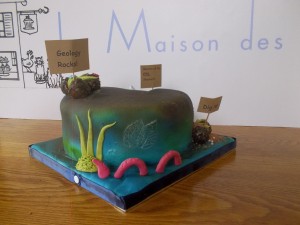 Geology Rocks!
Very exciting times here at la Maison des Petits Gateaux in East Sussex as I have a new piece of kit in the kitchen and have been airbrushing!
First victim (sorry client!)in Copthorne West Sussex was in fact my best friends daughter Tamsin who had just graduated with a First in Geology from Southampton University in Hampshire and was now in in Aberdeen Scotland on her internship finding oil! Talk about covering the country in one summer!
So, the order of the day was a delicious chocolate mud cake with a decadent rich chocolate buttercream filling.
After covering in a buttercream crumb coat and then a soft vanilla fondant the thinking hat had to go on.
However the tricky part was to make a slimy looking rock with oil spilling out and fossils! Hmm where to start?
Out came the airbrush and off I went with a very sludgy looking spray that resembled a wet rock under the sea.
Shiny black became the oil and a beautiful blue green took on the colour of the sea.
The fossils I imprinted using some cutters and added some seaweed and anenome style flowers for extra colour.
As she is in Aberdeen I had to fit in a pink and girly Loch Ness Monster and some rocks to dig under!
Tamsin's warning from her mum has always been 'watch out for the oil sharks!' .so we had to include one of those too
The cake was a great hit and was fun and messy to make! I loved every minute even though the kitchen did have a bit of a sludgy glow!
I am certainly away now with my airbrush so give me call if you have any projects in mind!!
Have a great week y'all
love Mands xx