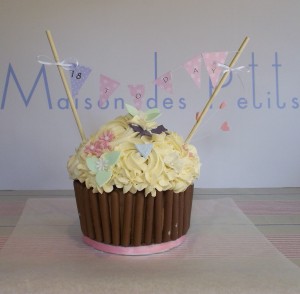 A giant cupcake was required from Brenchley in Kent for a gorgeous young lady who was turning 18.
As chocolate was her favourite (mine too!), the giant cupcake was a delicious  and decadent chocolate sponge filled with a rich chocolate buttercream.
The outside of the cake was covered in creamy fluffy vanilla buttercream in rose swirls with handmade sugar decorations.
This was definitely a girly cake!
These cakes were to be enjoyed by family and friends from all over Tonbridge , Brenchley, Tunbridge Wells Kent and Sussex.
Purple butterflies, pink hearts and flowers decorated the top along with handmade bunting propped between to posts announcing '18 Today' with tiny bows and wired hearts.
I love the idea of bunting and this makes a pretty decoration for any cake in any colour way
The bottom of the cake was iced in chocolate buttercream and then had delicious crunchy chocolate fingers embedded into the base. YUMMY!
The whole cake was a summery picture of scrumminess!!
To go with this cake were 12 vanilla cupcakes piped with more of the chocolate buttercream in a rose swirl topped with some very pretty handmade decorations.
As Charlotte is a dancer and has danced her way through many competitions and shows we had to of course include some ballet shoes!
Handbags, pretty flip flops and ballet shoes in pretty pastel colours topped the cupcakes along with a small sign stating 'eat more cake' which of course we all should do!
Glasses of fizz all round and a whole weekend of celebrating made this 18th a hugely fun one!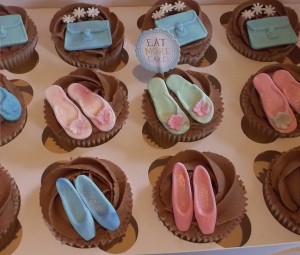 The summer definitely brings out the champagne and cake in us all!
Have a lovely week everyone and cheers!
Mands xx