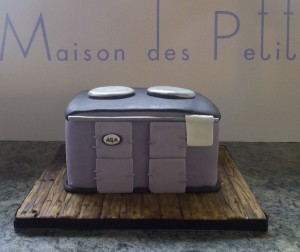 Happy Monday everyone!
The weather here in East Sussex has definitely turned a bit nippy and so the ovens on are a bonus!
The beautiful autumn colours of the Ashdown Forest are starting to come into their own now and look stunning on the sunny days we are having.
Well,  the challenge last week was for an AGA Cake in a lavender heathery colour going  to a lovely lady who was turning 50 in Reigate Surrey from her friend as a surprise.
This was a tricky hand over as it travelled from me in East Sussex then over to Copthorne in West Sussex and then up to the top of Reigate Hill in Surrey! It arrived in perfect condition ……phew!
The cake was made from a photo of her new AGA and is the new 'member' of the family  !
The flooring in her kitchen is oak floorboards and so this of course had to be included.
The beautiful colour of lavender looked fantastic in contrast to dark oak floorboards and a small white tea towel added to the homely feel of the AGA cake.
The silver tops on the hob level were coloured with edible antique silver lustre dust paint and looked very authentic if I say so myself.
Having had an AGA myself I know how they truly do become the heart of the house and are so warm and cosy. Albeit my AGA was not a gorgeous lavender colour!
This was a large 3 layer vanilla sponge with the finest strawberry conserve and light and fluffy vanilla buttercream layers under delicious vanilla fondant and was made to give generous sized portions to be enjoyed by all the guests at this birthday celebration.
I really enjoyed making this cake and the floorboards and so hope to be able to make more of them in all the AGA colours.
Have a good week and make sure you take time to enjoy  piece of cake and a cup of tea!
Off to check the fruit cakes now that are baking in the oven!
Love Mands x