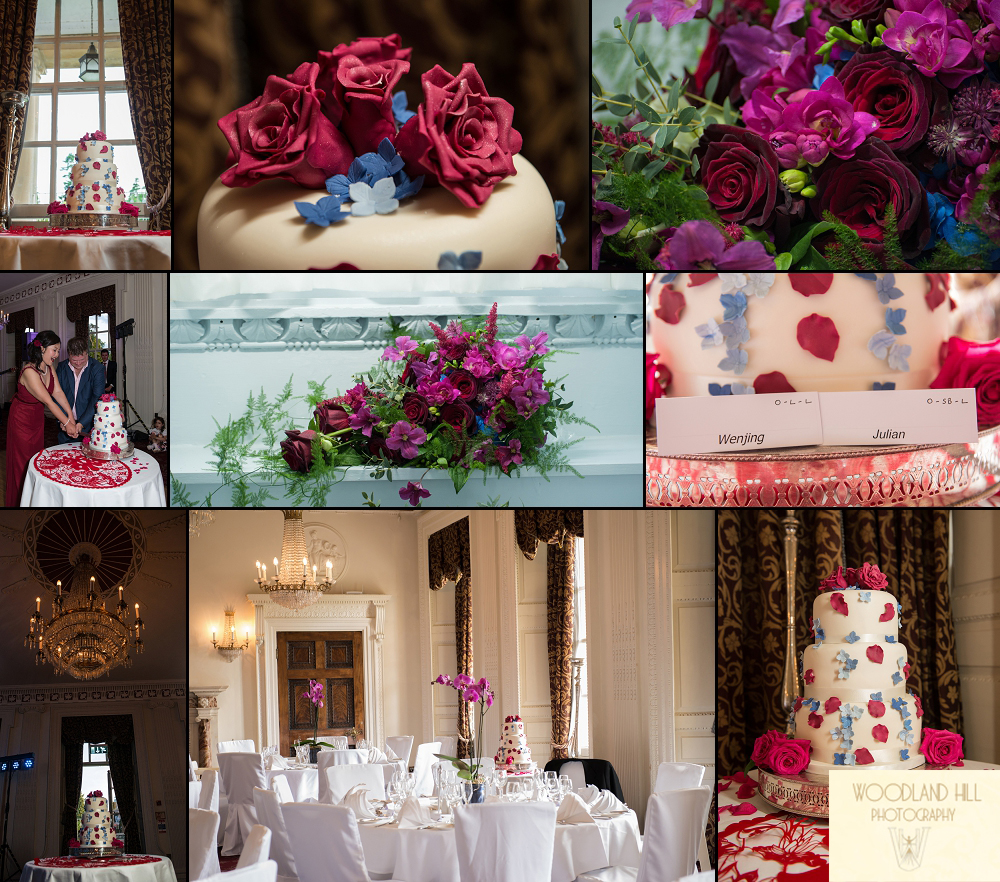 Good Morning Quality Cake Lovers,
I do love working at Buxted Park Hotel in East Sussex, not only is it the most beautiful wedding venue but it also is lucky enough to have Marc who ensures that every wedding day runs seamlessly, he does it with such fun too.
I first met Wenjing and Julian at Christmas. They live abroad so specific trips were made to the UK in order to research specific suppliers and to see me in their quest for good wedding cake.  Both Wenjing and Julian wanted a cake that not only looked good but tasted sublime too. It was like music to my ears when they asked all the important questions such as
• When do you bake your wedding cakes?
• What ingredients do you use?
• Are your designs bespoke?
• What training have you had?
To name but a few. For them the cake was one of the focal points of the day, it would be one of the main attractions in the reception room and would be on display virtually all day and it was then going to be eaten by all their guests so for them to be looking at something with an expectation of eating it, the final taste sensation had to be wonderful. I knew then that these were my kind of clients, discerning and on the look out for something truly bespoke to match their day.
They chose a three tiered cake the bottom tier was a 10 inch triple layer decadent chocolate mud cake, which oozed organic chocolate buttercream…yum! The middle tier was a triple layer sunny passion fruit cake with a light and fluffy buttercream of fresh and zingy fresh passion fruit…mouth wateringly good! The top tier was a rich a moist fruit cake embraced with my signature marzipan. The whole cake was covered in an ivory vanilla fondant icing.
Now we have something delicious hidden inside it was time to decorate this little beauty and make her ready to shine in Wenjing and Julian's reception room. I take great care to match my decorations to the theme of the wedding so it was off to Zara Flora in East Grinstead to chat about the flowers that Wenjing and Julian had chosen for their big day. I just loved the colour choices and as you can see the end result was a perfect match of blues and pinks. I will say to match the pink was a challenge as the hue was most unusual but I was really pleased with the end result. The outside was a tumbling array of gorgeous petals topped with the rose that Wenjing had chosen in sugar paste.
I hope you enjoy the images and there are a couple of the flowers so that you can see the harmony between the bouquet and my cake; I love it when a plan comes together!
I was over the moon to be working with one of our 'A' team Claire Hill from Woodland Hill Photography and she has provided today's images.
This week sees more cake fun in the La Maison Kitchen before we take some time off to take our son Jake to Manhattan. We are so, so proud of him as he is about to study for three years at the Stella Adler Acting Studio. If we weren't already proud enough of his achievements, he was offered one of 32 places out of over 1500 applicants. I am going to miss him dreadfully but can wait to see what the next stage of his life brings.
Happy weekend cake lovers,
Mands
xxx